Categories: JLP Updates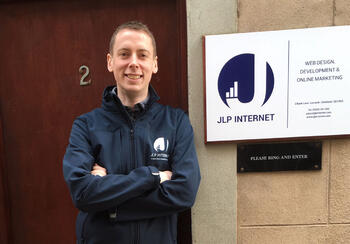 It's been a pretty crazy year for us so far with a lot of developments, successes and lessons learned. We kicked off the year by moving into our new office in January. This has been a huge move for us as we move the business out of my house and into its own space. Our office at Bank Lane is right above the Tattie Shop, making it much easier for clients to find us.
The extra space has allowed us to grow our team and welcome Regan Williamson into the fold. Regan started with us in April and has hit the ground running getting involved in every stage of the website development process.
There have been several times over the past few months I've wished we spaced things out a bit more. It's been a lot of hard work, but now things are starting to settle down again we find ourselves in a much better position to continue growing and looking for ways to improve our service.
On a personal note I think the separation of home and work has been a good move. Not only does it help me stay focussed and in "work mode" by leaving the house and going to the office, it also appears more professional for our clients visiting.
But we're not done yet. We have more exciting plans for the rest of 2019, so watch this space!