Categories: Client Spotlight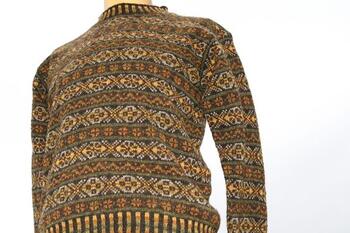 Anderson & Co is one of Shetland's longest standing knitwear suppliers and shops, after being established by Thomas Anderson in 1873. The family-owned firm has always taken pride in providing quality personal service to accompany their knitwear and more recently, their ranges to support young families.
Their knitwear range is one of Shetland's most extensive, with classically styled pieces for all ages featuring genuine Shetland wool. There is traditional Fair Isle gansey's, lightweight lace, seamless Shetland sweaters and for the coldest of months they also have chunky hand knitted sweaters.
Across their huge range of products, you won't find a single product without the Shetland Lady which guarantees the authenticity of garments, as it's the Shetland Knitwear Trade Association's Official Trademark.
While the company's history is steeped in Shetland culture and tradition through its knitwear, over more recent times they have also looked to provide products aimed at supporting the littlest ones in the family with their own nursery department. The business has moulded and developed to meet local demand for such support. With such products being so preciously important, Shetlanders were always going to be much more comfortable speaking in-person with experienced staff before making the purchase. Norman & Evelyn recognised this, and this comfort-void was filled by the team at Anderson & Co.
Check out this video local filmmaker & friend of ours, Keiba made that focused all around their extensive range of nursery products and their shop.
The Leask's have always been ahead of the curve though, they brought their range of knitwear to the international market several years ago when they launched their first e-commerce website. It was clear the market was there for quality knitwear and they wanted to be able to provide it.
However, with the digital and ecommerce landscape constantly evolving and changing in recent years, they needed a new and visually appealing website to accompany a new ecommerce system that was both secure and much easier to use for staff. This comes from seeing new orders, statistics around popular products and adding and removing new and old products.
With this, they got in touch with us back in 2018 with their problems and their goals for the website. We considered their situation and built them a new website and utilised the popular ecommerce software WooCommerce to handle their online sales for their knitwear. This eradicated the problems the team Anderson & Co had been facing and allowed them to put extensive time into trying to push their knitwear sales wider and further than before. We gave them training and the like to understand their new system and how to best make the most of it.
Keiba also produced this great piece for them detailing the knitwear side of the business.
Anderson & Co is one of many local businesses we have worked with and will continue to be available to for further support if they so need it. To find out more about the work we did with them, we have yet another video from the wonderfully talented Keiba as she spoke to the team about the project too. We urge you to check out the website of the Shetland Knitwear company and see if there is anything that suits you, or would be ideal for a friend, partner or family member and always remember to support local!