Categories: John's Coffee Journey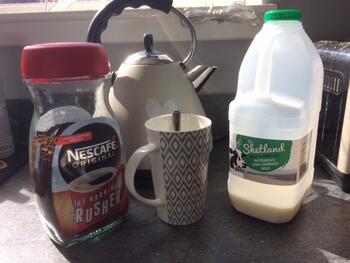 My coffee journey is all about me trying to like coffee after years of hating it. If you haven't read the first blog post check out my coffee journey stage 1 to give a little more context, but to cut a long story short I am trying to force myself to like coffee following the arrival of our twin girls four months ago. I've heard coffee can give you a caffiene boost through the day, something that would be very handy when trying to work on very little sleep.
A few weeks ago I tried coffee and it was disgusting. I then tried to drink coffee a couple of times over the next week or so, and it still wasn't getting any better. It was a struggle getting past the first few sips. I've not tried any more coffee for a few weeks now, until today. I turned my back on the jar of Douwe Egberts (I don't know how long it's been in the cupboard, which probably hasn't helped matters either) and switched to Nescafe and I finished a whole cup! I still wasn't enjoying it as much as, say, a glass of Irn Bru, but I finished it without wanting to scrape my taste buds off. I never really thought about the different brands tasting differently, but it's definitely a lot less bitter. There was also a lot of milk! I think this is what's called a Latte. I will leave the coffee-lingo for another day, for now it will remain "coffee and a good glug of milk".
I've also been told I need to try a "proper coffee" instead of instant coffee. I think that needs to happen, especially now progress has been made and motivation is high.

Current analysis: coffee is drinkable, but not enjoyable