Categories: JLP Updates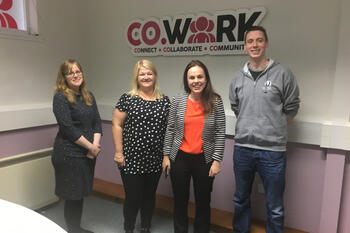 On Monday 23rd September, we were privileged to welcome The Minister for Public Finance and Digital Economy Kate Forbes to our office in Lerwick. We were asked if we'd be interested in hosting Ms Forbes following on from our involvement in the Business Gateway Digital Boost scheme, and we jumped at the chance.
We began by giving the Minister a tour of our new office space, including the newly opened CoWork Shetland, the first dedicated coworking space in Shetland, before returning to the main JLP office.
It's not every day we have such a high profile visitor to our office, and I can't think of anyone more relevant to speak to about our business than the Scottish Minister for Digital Economy.
Also there was Diana Abernethy, our business advisor through Business Gateway, and the new head of Business Gateway in Shetland, Kirsten Nicolson.
Our discussion began by me giving a brief overview of our business, how it began from a spare bedroom in my parents house to what it is now, and demonstrated through our new CoWork Shetland initiative how we are keen to continue reinvesting and looking for new ways to innovate and grow our business.
We then discussed how Business Gateway and in particular how the Digital Boost scheme helped us get expert marketing help when preparing to launch our new IRIS website builder. We'd never launched a product before, so it was really useful having access to experts through this scheme to help us get the product finished and launched.
I then took the opportunity to steer the conversation towards a couple of issues I was keen to raise with the minister.
Firstly, I highlighted the sharp increase in cases of email fraud we've been aware of this year, where businesses are targeted and sent emails pretending to be from their customers or suppliers with new bank details. These cases have been seen across many businesses in Shetland and throughout Scotland, and no doubt further afield. The emails are becoming far more sophisticated and it led us to collaborating with other local email and IT suppliers to send out letters and posters to businesses in Shetland to raise awareness of this issue. It was great to hear Ms Forbes was already well aware of the seriousness of the issue, and even took one of our posters away with her.
Secondly, I was keen to speak about supplier procurement in technology. Using the Internet is a fantastic way to level the playing field, and means we can compete against other companies all across the UK and around the world for work. Technology can break down the barrier of living in a remote place. We use this to our advantage as we work with companies throughout Scotland as well as Manchester, Bristol, Germany, and United States. However, my point to the Minister was that this could potentially have the opposite effect, as we are also facing more competition for work, especially from the public sector where cost is often the deciding factor.
I pointed out the community benefit involved with using local businesses who support good causes in the community, and asked if this was something that could be taken into account more often during a tender process. In other words, if a public department is looking for work and the choice is between a local supplier who has a track record of sponsoring local sports clubs, supporting events and being involved in the community, or a company from further afield with no plans to help local causes the value of those two bids are different, and the community benefit from the local company should be taken into account. Ms Forbes pointed out that usually such tender processes and decisions are down to the local authorities, but agreed that community benefit is important.
While talking about community benefit, I took the opportunity to mention our new website www.teamshetland.com that aims to highlight some of the good work being done by local businesses to support good causes.
It's great to see such a high profile person visit the Isles, and I appreciate her taking time out of her busy schedule to visit us and endure my ramblings. It was a pleasure, and I hope to welcome Ms Forbes back again in the future.