Categories: Clients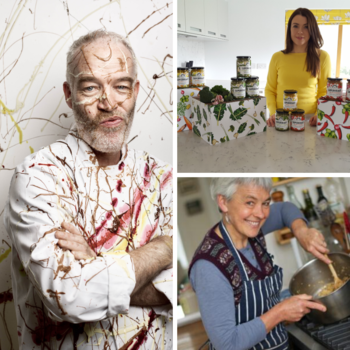 We are lucky to work with some very talented individuals in Shetland, none more so than our food-orientated clients! 
This past weekend was the Taste of Shetland Festival that is run by the team at Shetland Food & Drink. The annual event was held at Islesburgh for the first time in it's lifespan with previous events taking place at the Clickimin Leisure Centre. The move was to boost the interactive nature of the workshops & demonstrations and it seemed to do just that! It was also at this event that the groups chair, Marian Armitage, was presented with her Ambassador of the Year award by Highlands & Islands Food & Drink. A hugely impressive achievement for one of Shetland's stalwarts in the food and drink community, an award that truly shows how much of an impact she has had in both Shetland & beyond.
Away from Taste of Shetland, Marian Armitage and their great accomplishments this past week. One of our treasured Shopify clients, Evonne Morrison launched her website in correlation with her appearance on the BBC's Dragons Den late this Summer. The food entrepreuner had one of her products nominated for an award in London over the weekend. Her Ginger & Tumeric Superkraut beat off competition from the likes of supermarket giants, Aldi, to claim the Relishes & Chutney Prize from the Quality Food & Drink judges. This isn't the first time Good Nude Food & Evonne have had award success either, she was named Young Entrepreneur of the Year at the Scottish Edge Awards in 2017 and she's been nominated for awards across the country ever since.

Onto our latest Shopify client, Mirrie Dancers. They were also nominated for an award in Scotland recently but were narrowly pipped to the post. It's only a matter of time before the chocolatier, Dave & his team are picking up further acclaim, you would think. Dave & Mirrie Dancers, of course, were named as the Small Retailer of the Year at the Scottish SME Business awards in 2018. Away from the awards, they also recently started working with the Amenity Trust on promoting the Isles' Geopark status and have a new range of chocolates out as part of work with Whisky giants Highland Park. 
All in all, it's all go for our clients in the food & drink industry and we wish them all a major congratulations on their successes and we know it's only the start of what's to come for them.