Categories: JLP Updates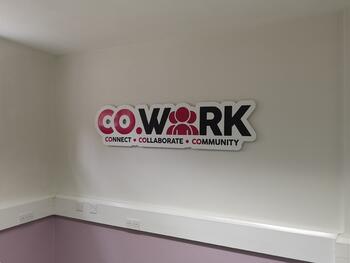 We are very excited to finally introduce to you CoWork Shetland, the reasons why we started it and what our longer-term goals for it are.
CoWork Shetland is set to be Shetland's first coworking space, a model that has really taken off on the mainland of the United Kingdom over the past decade with the likes of Regus and Spaceworks - the leaders in affordable business and office space for small, growing businesses, freelancers and professionals.
With us moving into our new offices in Lerwick, the space was far greater than we required. With that, the opportunity to pursue coworking space was presented to us and we endeavoured to research the best way to go about this. In terms of the space itself, the required software and the ongoing management that would be required.
Initially, the space was rented out by the Shetland Folk Festival in the lead-up to their prestigious, annual folk music festival. After they moved out, instead of continuing to rent it as a full office to an organisation or business we really wanted to provide space that could be utilised by the widest range of small businesses in Shetland – there's no affordable space for them currently and this can bring about an abundance of different problems, even outwith just cashflow for the business.
It's not a secret that people are uncomfortable with home addresses being the same as their business address. The address will feature on marketing materials and the website, as well as this then you don't necessarily have a place to meet with potential clients and suppliers necessarily. The front room or spare bedroom, turned office, at the house isn't necessarily ideal. A new address, such as one at CoWork Shetland would allow for added professionalism and security!
This was one of the biggest pulls for launching CoWork Shetland, because it's something all of us here wished was in place for us in Shetland at different stages of our work and business lives – whether that was Deborah working remotely or John kicking off his business a number of years ago. On top of that, being able to differentiate work life to home life is hugely beneficial mentally too, whether that's down to simple productivity or instead the fact you don't have to associate the two as the same, it can be hugely beneficial to everyone's mental wellbeing.
Asides from the space and without using the more than coworking space slogan we will also be looking to produce a catalogue of tools, resources and content that could be utilised by our members. The content will look to offer advice or tools that could really help them in business as they move forward.
With the wheels set in motion, we ordered furniture from GTS, got the logo and physical branding from ArtMachine and went on the treacherous journey of flat-packing the desks, chairs and everything other ourselves! We have also featured a number of Shetland's finest photographers to add some flavour to the walls, bought a coffee machine and got the place ready for launch!
Are you looking for affordable space for you, or know any friends or family that may be after such a thing? We are offering 10% discounts until the end of the month (for every month thereafter), and if you join with a friend in business then you will both get an additional 10% off the initial month!
Visit our website for full details and information, and get involved!
https://www.coworkshetland.com | https://www.facebook.com/coworkshetland