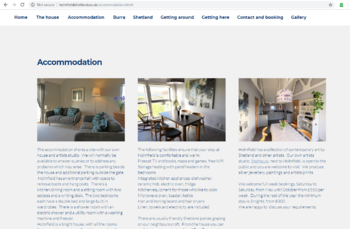 IRIS, our very own website builder, went live in June last year and we're delighted to have had some people sign up and use it as a cost effective tool for creating websites.  I'm still often amazed that we even have IRIS and can't wait to focus more this year on promoting it to everyone and anyone.  
Our first IRIS website went live in August last year, for DS Adamson Mechanical Services Ltd, folllowed a little later by Hame Fae Hame in November and Tatiana Knitwear in December.  All three were 'Managed Packages' which essentially means we do everything for them.  We design and build the website and manage all edits for the duration of the subscription.  It's been great having something to offer people that don't require a fully bespoke website and we've enjoyed working with each of them, who have all set up their own businesses.  I really enjoy playing around on IRIS trying to come up with designs to suit indiviudal tastes and requirements.
However, more recently we've also had 3 clients sign up to the 'DIY Package' where they design, build and maintain their websites themselves.  This is very exciting (and a bit nerve-wracking) for us as we're getting to see people use IRIS for the first time and hoping it's user friendly.  We've become so familiar with the system that it'll be great to get some feedback.  So far only one of these websites is live and that's Holmfield, a beautiful self catering in Burra. We were so chuffed with what they did with the website and can't wait to see how the other two turn out.
For anyone who's interested, you can find out more about IRIS at www.iris.jlpinternet.com