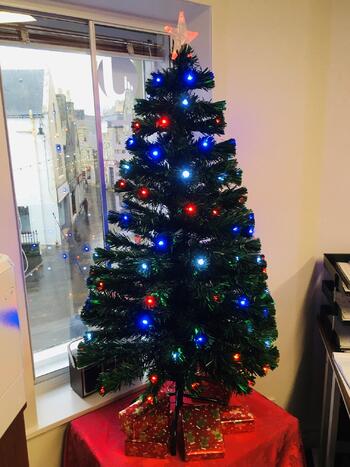 I can hardly believe it's December already but I am very happy it is!  I love this time of year and the build up to Christmas Day.
We've been in the new office nearly a year now and it's our first Christmas so we have gotten a small tree to put up in the window.  It fairly makes the office feel more festive and it's so nice to look out the window and see decorations appearing along the street too.
I think it's safe to say that I'm the biggest Christmas lover in the office although I'm glad to say we don't have any Bah Humbugs!  We're all taking part in Christmas Jumper Day on Friday 13th December so we'll be posting on social media with links to our justgiving page and photos of our team in our best festive knits.  If you want to donate £2 now you can text TEAMJLP to 70050*
We're also spreading festive cheer with our Christmas competition.  Have a look at our social media for terms and how to enter but I can assue you it's worth it.  This year we have put together a hamper using products from one of our recent website launches - Mirrie Dancers Chocolatier.  I had the delightful job of heading into their shop and choosing goodies for our hampers (yes, not just one, but two hampers this year!).  It was hard to choose but I think we've got a couple of delicious hampers up for grabs!
We've had a splendid year here at JLP HQ and it's great to look at the year planner and see how many websites we've developed and launched this year.  I'm sure I said this last year but it's so great to work with a varied range of businesses and individuals and I look forward to many more in 2020!
*Text TEAMJLP to 70050 to donate £2 to Save the Children's Christmas Jumper Day.  You'll be billed £2 plus standard rate text message.  We receive 100% of your donation.  By texting TEAMJLP you agree to calls about fundraising appeals, events and other ways to support.  Include NO PHONE to opt out of calls.  Queries? 02070126400.  Read our Privacy Policy www.savethechildren.org.uk/privacy.