Categories: Digital Marketing Guide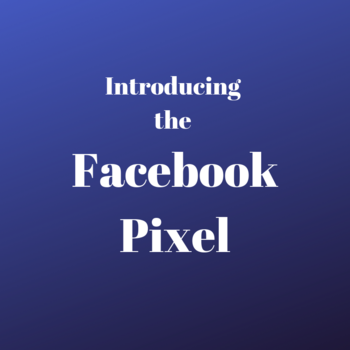 The next part of our Social Media-focus in our Digital Marketing Guide takes an introductory look to what the Facebook Pixel is, and how to utilise it to retarget ads and get the most out of your marketing funnels. If you're wanting a more in-depth look at it and have it implemented for your business, please get in touch. 
The Facebook pixel is an extremely powerful tool that is a necessity for having success online. It's a small piece of code that you place on your website that tracks the users' actions. Whether that's that they view a page (product or categories pages, for example), add items to carts or a wide range of different actions. This becomes powerful in a number of ways, firstly you can retarget advertisements to those that carry out certain actions on the site. For example, you can place ads that are specifically targeted to the people that are viewing your range of bags, the copy and imagery can be tweaked to bring them back into your site.
And that's just scraping the surface.
You can create lookalike audiences that Facebook matches their demographics too – so if this group of people are enjoying looking at your bag range on your website, you can grow that reach through creating lookalike audiences to find even more people who'd surf for similar.
But we can one-step it one more, what if you had a collection of people who were buying your high-value bag range? Say they were a set of customers spending £200+ on your products, and you wanted to try and find people like this to continue to increase sales. We all have the ability to create lookalike audiences on Facebook. We can easily try target the people ourselves through the Facebook Advertising tools but it's easy to miss the mark and waste your money on people that aren't interested. Creating a lookalike audience from the people that are already spending big on your website allows us to pinpoint the exact-type of people who are most likely to spend big.
How can marketing funnels bring in more customers?
Another way to utilise the Facebook pixel and retarget to both the folk that visited our website and the lookalike audience counterparts is by working on our marketing and sales funnels. We bring people through a funnel from stranger to repeat customer. Through a step-by-step funnel we can provide strangers with enough value that they decide they want to become your customer. 
We don't enjoy buying from strangers, do we? We ignore people selling on the streets and we rarely pay much attention to cold emails or telesales. We very rarely click on advertisements online from random businesses we don't revognise either. We buy from people we trust, from brands we know and brands that we like. 
So, how do we actually get people to trust us as a business? Why do people decide they want to take a look at our services or buy our products? We can't just boost a post saying 20% off and then expect people to buy from us. That's a waste of money and it won't convert into real-life sales. There's a vast range of methods and funnel strategies that you can consider but the most common one is a fairly straightforward concept. It's all about putting value first. 
It'll look a bit like this:
Phase 1- Create relevant, problem-solving-type content – either as a video or blog post on your own website.
Phase 2 – Retarget an advert to those above with additional value. A free guide, e-book or in-depth tutorial that mirrors the above.
Phase 3 – Convert the sale. Retargeting ad that details your new programme, new product or service that you provide. They already clearly value your opinion, and your work – this is where you convert the sale and begin the relationship with the customer.
This is a hugely beneficial technique for service providers, but ecommerce sites can reap the rewards too, but they could also be having success with lookalike audiences. I've put an example below so you can get the idea, but it can be used across a range of services. If you're struggling, then please get in touch.
Example: Personal Trainer
Phase 1 – High-quality 2-minute video detailing a method of gaining mass.
Phase 2 – Retarget video viewers to a FREE nutritional guide for gaining muscle.
Phase 3 – Retarget to above – personal training services for building muscle. First week for FREE (not a necessity but can be a big help).

Those that come through and click to get in touch or sign-up can then be used as lookalike audiences too, along with the funnel!
With that, there's your introduction to the Facebook pixel and the benefits it can have for you and your business. It's hugely beneficial for different marketing campaigns and if you really hit the nail on the head with it then it can become like a tap. Turn it on when you want results and turn it off when you're too busy. Get it right, and you're golden. If you're wanting to hear more about the Facebook Pixel and how it can really make a difference to your digital campaigns while integrating with offline campaigns then please get in touch and we can talk about your business. 
PART 1 | Introducing Digital Marketing
PART 2 | Why You Should be Creating Content Online
PART 3 | Why You Should be Investing in Your Website
Part 4 | Why Social Media is Important for Your Business
Part 6 | What can Influencers do for Your Brand? (coming soon - want early access? Email us.)